Canteens & Catering
Restaurants
Quick Service
Transport
Leisure
Supermarkets
Non-Food Retail
Shops
Franchising
Others
TCPOS Software Suite
TCPOS – Multifunctional POS solution
The TCPOS software solution suite provides easy, powerful and flexible tools for managing every aspect of the point of sale (POS) and the businesses of companies involved in the hospitality and retail sectors.
Modern technology
TCPOS is a technologically-advanced product built on industrial standards such as operative systems like Windows, WEPOS, Oracle and Microsoft SQL server databases. The system provides user-friendly interfaces with touch-screen technology and operates on all common hardware platforms.
Scalable for every business
The system is multi-functional, meaning that it can be configured in an instant according to customer requirements. The solution it offers is highly scalable: from stand-alone tills to networks with several hundred checkouts. TCPOS can also be used to issue tickets and can be configured to operate as a Self-Service system. The POS system enables interfacing to all kinds of peripherals. Printers, scanners, EFT-terminals, waiter locks, vending machines and drink dispensers can all be connected. The system is also compatible with mobile devices.
Simply reliable
The system is stable and failsafe. In the event of network problems, it continues to operate in off-line mode and once the connection is reestablished data is automatically transferred to the server.
TCPOS enables centralized management of the products in the range, allowing for their management by the implementation of visibility criteria. In addition it handles several price levels, discounts and supplements, different payment typologies and many promotions as well as subsidies.
Internationally proven
TCPOS is a multi-currency system programmed to accept multiple payment methods: cash, credit cards, customer cards, gift and meal vouchers, smart cards and electronic keys that may be recharged at the TCPOS terminal. TCPOS solutions are multi-lingual, multi-currency and follow the tax regulations in force in each country.
Experience and expertise
TCPOS is developed, marketed and supported by a dedicated organization, boasting years of experience in IT, as well as an in-depth knowledge of the business, processes and technologies in the fields of hospitality, retail and points of sale. These factors guarantee that TCPOS is a secure investment for your business.
Companies in the following sectors have placed their trust in TCPOS:
Restaurants, corporate canteens, schools and universities, Quick-Service restaurants, hospital catering
Outlets, direct chains and franchising, supermarkets, beverage retailers, garden centers, wine cellars, bakeries and pastry shops
Hotels, retirement homes
Theme parks, fairs and events, cruise liners, golf clubs, ski resorts, stadiums and museums
Airports and flights, railway stations and trains, ferries
Public administrations and customs
Multifunctional POS solution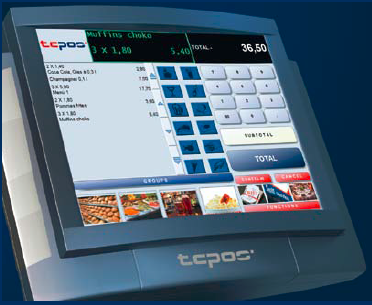 The TCPOS FrontEnd POS solution facilitates processes in many companies of different sizes, and also those operating in several sectors such as restaurants, quick service, canteens and catering, stadiums, hotels, leisure parks, discount, shops, franchising, the beverage market, cruise ships, airplanes and trains, as well as public administration.
The internationally-applicable solutions are multi-lingual and multi-currency and, due to their broad range of functions, can be customized to suit individual customer needs.
TCPOS operates on more than 30,000 systems all over Europe and carries out more than 6 million transactions every day. Regardless of the size of the company, TCPOS is the perfect tool for backing your business of today and ambitions of tomorrow.
Request for a Demo, contact:
Mr. Joli Samuel
Business Development Manager
Joli.Samuel@synergy-software.com
+971 50 1400 642